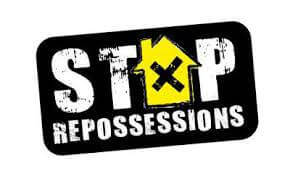 A repossession notice is not something any of us want to receive. But a sudden change in circumstances can lead to very real financial difficulties.
The good new is that there are ways to stop repossession of your house. When a bailiff first visits, you'll be given a letter and a form explaining the eviction date and time. Depending on your local bailiffs office, you will be allowed a window of time to leave by. Typically, the window isn't any less than three days. If you are disabled, elderly or you have children, you should also be offered special help for eviction.
Even if a judge has ordered a house repossession, you may still be able to prevent it from happening. After going to court and a repossession notice is ordered, you will receive a date by which you must move out. By ignoring this date, your mortgage lender can request a bailiffs warrant to enter and remove you from your home.
Delay or stop the repossession notice

Whilst you are still living in your property, you could still stop the repossession eviction. There is some great and immediate advice available online at the Government's own site here.
Firstly, you should request another court hearing by filling in the form that came with the repossession notice. It is important to explain fully your circumstances and any reasons why the process should be delayed or stopped. Further, if you've agreed a sale and can prove it will complete quickly, you should include this on your form. The quicker you can fill in the form the better your chances are. It is also suggested to hand deliver this form to ensure nothing happens to it during delivery.
Here we list some strong reasons as to why your repossession notice should be delayed or stopped:
You have an agreed sale which will allow you to repay the mortgage to the lender in full.
You can find quick sales from companies who buy houses like we do here at National Property Buyers. We recommend you find a company who is reliable and secure when looking to sell. The guaranteed sale and fair price is especially important in situations like repossession evictions.
If you have children who are young or disabled.
In situations where you have young or disabled children, finding somewhere else to live may be more difficult. You should express this and explain that you require a longer window of time to find a suitable property.
You have found an appropriate and regulated 'sale and rent back' scheme that can buy your house. This scheme allows you to pay back the mortgage you owe and then rent the property from the investor.
If your financial situation is improving.
If you find yourself in a position where you will be able to repay the debt, explain the situation. For example, if you have just started a new job or are about to start, document this on the form.
What's the best way to stop a repossession notice?
One of the fastest and fail safe ways of stopping a repossession is by selling your house quickly. You can pay off your arrears, stop the repossession and protect your credit file as you do so.
In summary
Having received a repossession notice and the threat of losing your home this can be a very worrying time. The best route of action is to always seek help. Talk to your lender and look for ways to resolve your financial difficulties. This can often be a homeowners best chance of keeping their home.
If all of the worry has left you thinking you would prefer to simply sell your house quickly contact National Property Buyers. We could help buy your home and take away all of the stress, leaving you free to relax.
Have you found this article helpful? Let us know by leaving a brief comment below.